VISA Platinum – Annual Percentage Rates as low as 10.24%.  Plus,  No Annual Fee and ZERO Percent for Purchases and Balance transfers for the first 6 months for new cards.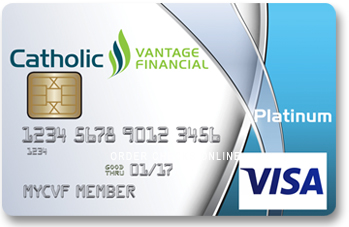 Plus, get instant perks and benefits when you use your VISA® Platinum Card!  APPLY ONLINE
Download and Read Your Complete VISA Platinum Guide to Benefits
Lost or Stolen Card Reporting:  1-800-449-7728
Card Activation: 1-800-631-3197
Cardholder Inquiry Service: 1-866-820-4929
Emergency Card / Cash Replacement: 1-866-820-4929
EMV Chip Technology
Your Catholic Vantage Financial VISA Card Uses EMV Chip Technology for an Extra Layer of Protection. If you swipe your new VISA card and receive a message to enter your PIN, cancel the transaction and insert your card into the EMV card reader (usually located at the bottom of the keypad). EMV cards are authorized via the microchip and must be inserted into EMV card reader.