The Tuition Myth
Growing up in Michigan, I've known so many people that solely apply to in-state universities. As I went through the process of college applications this past year, I talked to many of my friends and classmates to ascertain why they were so locked-in to staying in-state. Most people told me that choosing to stay in Michigan was a decision heavily influenced by finances.
For most, the amount of scholarship or financial aid a university offers has a grand impact on a student's decision to attend a particular school. However, there is a common misconception that out-of-state universities are flat-out unaffordable. Everyone's budget is different, and staying in-state can save money in many cases, but out-of-state universities are not necessarily unaffordable.  
The sticker price of universities has a tendency to scare people. People fear that they will be spending upwards of $40,000 out-of-state, while they think they can stay around the $25,000 range in-state. Now, if you are purely researching public universities, this philosophy is accurate, as your location will have a significant influence on your tuition rates. However, this philosophy is modified with respect to private universities.
Private universities have a tuition rate that is standard for both in-state and out-of-state residents, and this rate is the same for both parties. While private institutions are known for their high tuition rates, many of these universities are also known for their generous scholarship and financial aid packages.
These scholarships and financial aid packages can potentially lower the cost of tuition to the point where you would pay nearly the same price at a state school. If you are interested in a particular school but are concerned about the cost, do some research. If the only thing holding you back is your fear that it will cost too much, wait and see how much scholarship or financial aid the university offers you before making a decision. 
The same applies to private universities in the state of Michigan. This isn't to say that you shouldn't attend a private university in the state of Michigan or anywhere else; just be realistic about the cost.
When applying to colleges, it is important to think about the financial consequences of your decision and how they will affect your life. You and your parents may have to make sacrifices for your dream school, but don't rule out a university before you have learned all of the necessary information.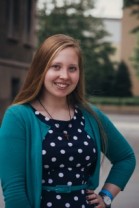 My name is Megan Hammond, and I am an aspiring writer, blogger, and entrepreneur. As a senior in high school, I am involved in a wide array of activities ranging from the National Honor Society to Campus Ministry to the figure skating team. When I am not in the classroom, I am likely working. My passion for figure skating transcends beyond my personal goals, and I enjoy teaching figure skating at USA Hockey Arena.
During my free time, I am typically reading or writing. I am passionate about English and Spanish, and I spend my free time trying to improve my skills in these areas. When I'm not reading or writing, I am usually working on new graphic design projects in Photoshop. I hope that I can put all of these skills to use as I pursue a career in marketing.
Photo Credit: Mahdi Gransberry