St. Edith Student Credit Union
Catholic Vantage Financial is proud to partner with St. Edith to offer the Student Credit Union at their school. Youth Program Coordinator, Jennifer Galatis brings her many years of teaching skills to help guide the students. 
Questions? Email JGalatis@mycvf.org or call (734) 432-0212 Ext 210.

 Start your Student Credit Union Savings Account online.
Click image below to open your account online or stop by one of our local branches.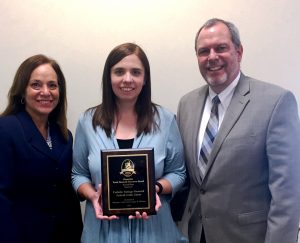 Catholic Vantage Financial has received national recognition for our student credit union programs such as this 2015 Desjardins Youth Financial Literacy award from the Michigan Credit Union league.
(Pictured Left – Right: Emma Teller, vice president marketing and business development, Jennifer Galatis, youth program coordinator, and Pete Bagazinski, CEO.)
St. Edith Student Credit Union Schedule
Student credit union at St. Edith will take place on Fridays, usually twice a month depending on the school calendar. Please refer to The 2016 – 2017 student credit union schedule below:
| 2016 | Day 1 | Day 2 |
| --- | --- | --- |
| October | 21 | |
| November | No School | 18 |
| December | 2 | 16 |
| 2017 | | |
| January | 6 | 20 |
| February | 3 | 17 |
| March | 3 | 17 |
| April | 7 | N/A |
| May | 5 | Last Day |
WHAT IS THE STUDENT CREDIT UNION BRANCH?
The objectives of this program are to:
Raise the awareness of financial services and products to promote the benefits of good savings habits and setting financial goals.
Provide an educational environment for students to receive hands-on experience in a financial setting.
Introduce life employment skills for student workers such as organization, human relations, cash handling, marketing, and teamwork to the student workers.
SAVING CAN BE FUN!
New accounts will receive a special pouch that can be used to safely bring their deposits on Student Credit Union days.  They will also receive a savings record book to watch their deposits grow.  Each time students visit the Student Credit Union Branch a representative will review the transaction with the student to help teach record keeping.  Student Savers receive a small gift (i.e., stickers, pencils, bookmarker) when they make a deposit to encourage savings. Other activities and prize drawings will continue throughout the program year.
WHO CAN PARTICIPATE?
Once a savings account has been established with Catholic Vantage Financial, any student may participate by making deposits into their savings account at the Student Credit Union Branch.
Your student will experience the rewards of good savings habits as they visit the Student Credit Union at your Catholic School.  In addition, select students in the upper grades will be working in the operations of the Student Credit Union Branch gaining real world experience. If you have any questions or would like more information call (734) 432-0212, Ext 210 or email JGALATIS@mycvf.org