Reading For Funds
READING for FUNDS!
Receive up to $10 in your CVF youth savings account
Who is eligible: Youth members 13 and under
How it works: Youth who read a minimum of 5 fun and educational books about math and money during the summer months can receive $2 for each book read, up to $10. Younger children, who read with their parents, are also eligible.
For books or recommendations: Visit your favorite library or bookstore. You can even visit our branches and we'll have a variety of books available for you to borrow.
To earn funds, between June 15 to August 15, 2018, bring the completed form to our Livonia or Plymouth branch. Include the list of books read and form signed by a parent.
Have questions?
Call 734-432-0212
Download Reading For Funds Form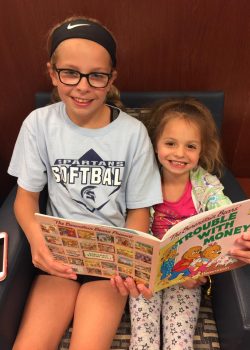 PLUS
You could be selected to receive an additional $25 deposit*!
Just post a photo of you and your favorite book and tag us:
/ MycvfMember   or      / MYCVF
*Must be 18 years old or have parent permission to submit photo. Four photos will be randomly selected to receive an additional $25 deposit into a CVF youth account. You may also mail in a 3 x 5 card with your name, address, phone number, and favorite book to: Catholic Vantage Financial, 8817 Sheldon Rd., Plymouth, MI 48170, attention Reading for Funds. All entries and posts must be received by 5:00 pm EST on August 15, 2018 and will be announced by August 31, 2018. Only one prize per youth member. Odds of photo / entry being randomly selected will be based on number of entries / posts received. Not available where prohibited by law.
Plymouth
Arthurs Funny Money
Berenstain Bears Dollars and Sense
The Coin Counting Book
One Cent, Two Cent, Old Cent, New Cent
Lily Learns About Wants and Needs
Alexander, Who Used to Be Rich Last Sunday
Money Maddness
The Penny Pot
Lots and Lots of Coins
Jenny Found a Penny
Rock, Brock, and the Savings Shock
Berenstain Bears Trouble With Money
Lemonade In Winter
Those Shoes
Brody Borrows Money
Just Saving My Money
Finance 101 for Kids
Money, Money, Honey Bunny
26 Letters and 99 Cents
Benny's Pennies
Livonia
Sheep in a Shop
Noom & Raj Start a Business
The Coin Counting Book
One Cent, Two Cent, Old Cent, New Cent
Lily Learns About Wants and Needs
Alexander, Who Used to Be Rich Last Sunday
Money Maddness
The Penny Pot
A Dollar, A Penny, How Much and How Many
Isabel's Car Wash
Rock, Brock, and the Savings Shock
Berenstain Bears Trouble With Money
Lemonade In Winter
Those Shoes
Brody Borrows Money
Just Saving My Money
Finance 101 for Kids
Money, Money, Honey Bunny