Check This Out – Prepping for College 101
Heading to college is both an exciting and nerve-wracking time in a teenager's life. While there are so many lifestyle things to consider before move-in day, it's also important to keep your finances in mind. To take financial responsibility, think of these three main necessities.
1. Open a Checking Account
I can't stress how important it is to open a checking account when you're going off to college. No matter how far away from home you will be, a debit card is undoubtedly practical. A checking account will provide you with a sense of financial freedom, but also with a sense of responsibility. Deciding how much money you put in your savings account versus your checking account will help you understand how to be fiscally responsible. Checking accounts offer both freedom and flexibility, so make this a priority before enrolling for your first semester.
2. Know Your Provider
Make sure you get the time to know your provider. There's a huge difference between banks and credit unions, so make sure you know what services your provider offers. Do some investigating and see what provider(s) are available on campus. If your current provider does not have a location on your campus, consider opening a secondary account. While having a provider on campus is surely convenient, many banks offer mobile services that can help compensate for the time being. Take the time to explore your options and understand what is available to you on your campus.
3. Credit Cards
Credit cards can be a finicky subject; they pose serious threats if not utilized responsibly. However, having a credit card tied to your personal account can foster financial responsibility. Using a credit card, if done smartly, will help build your credit score. Your credit score will follow you for the rest of your adult life, and while you can improve it over time, it's much easier to start off on a level playing field. Talk with your parents to discuss whether or not having a credit card linked to your own money is the right decision for you.
While financing college isn't all that glamorous, it certainly is important to think about. Part of college is about taking responsibility for your actions, and your finances are no exception to this rule. Taking the time to open a checking account, know the services your provider offers, and explore the world of credit cards will only benefit you and provide economic freedom.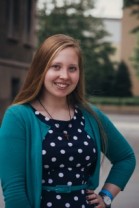 My name is Megan Hammond, and I am an aspiring writer, blogger, and entrepreneur. As a senior in high school, I am involved in a wide array of activities ranging from the National Honor Society to Campus Ministry to the figure skating team. When I am not in the classroom, I am likely working. My passion for figure skating transcends beyond my personal goals, and I enjoy teaching figure skating at USA Hockey Arena.
During my free time, I am typically reading or writing. I am passionate about English and Spanish, and I spend my free time trying to improve my skills in these areas. When I'm not reading or writing, I am usually working on new graphic design projects in Photoshop. I hope that I can put all of these skills to use as I pursue a career in marketing.
Photo Credit: Mahdi Gransberry