Exclusive Catholic Central Rewards Card—Support Future Shamrocks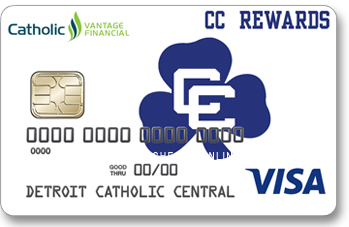 The Catholic Central VISA Rewards Card is offered by the Catholic Central Advancement Office in partnership with Catholic Vantage Financial to support the tuition assistance program earning 1.25% cash back on credit card purchases to support CC's assistance fund and future generations of shamrock brothers.
APPLY ONLINE
Get ZERO PERCENT for purchases and balance transfers for 6 months!
Learn more about our VISA terms and agreement
See current VISA rate information
The cash back earned from purchases you make will go directly to the fund, helping more young men to experience the Catholic Central tradition of Goodness, Discipline, and Knowledge. Catholic Vantage Financial is Michigan's leading and most well respected Catholic Credit Union. It has a long established history of serving the financial needs and best interests of our Catholic community.